Garden paving London home, Kensington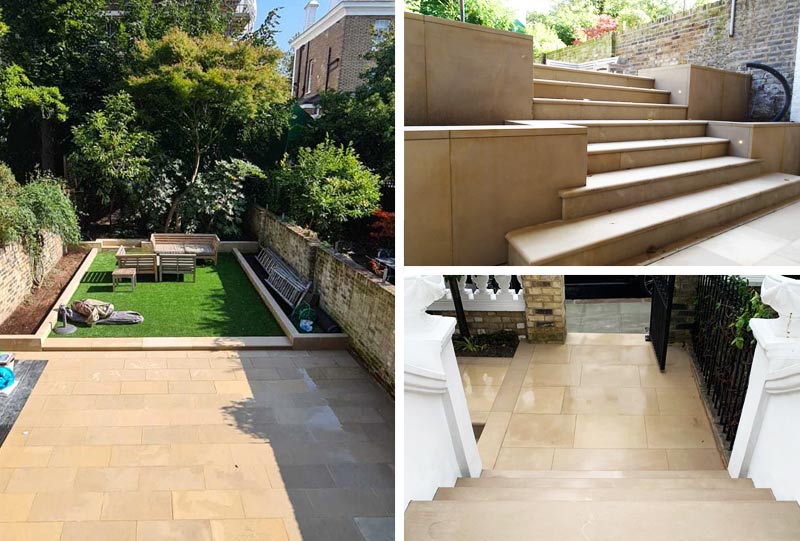 Pictured: New paving and steps that we designed and installed for a family home in Kensington
Our team transformed the front and rear of a substantial house in Kensington, while the main contractor refurbished the interior. We designed and installed new stone garden paving, steps and stonework, creating an attractive, family-friendly space.
About our work on this project
Pictured: New entrance paving and steps that we designed and installed for a family home in Kensington
We were selected by Newlands Construction, the main contractor, to be their stonework sub-contractor for this project.
Working with Newlands, we began by assessing the client's requirements and then created a design for both front and rear gardens that was practical and stylish – ideal for modern family living.
We provided a range of stone samples to the client, and they chose a York stone finish to all rear garden stonework and Portland stone for the front. We then produced final drawings that were also approved by the client.
Our team then installed new paving and steps to the front entrance, installed basement steps leading to the rear garden, plus rear garden paving, plinth stones and cladding to large planters. We also reacted swiftly to a design change request from the client, and added another set of steps to allow better access to the rear section of the garden.
We completed our work on time, and the owners moved into their refurbished family home.
Garden paving London, Kensington. Before and after photo:
Before and after photo: Basement steps
Additional construction information
Pictured: New stone balcony paving and steps
All rear garden paving was removed so excavation could be planned. It was decided that internal strengthening was to be installed to the ceiling of the basement level of the property. This was done by using Acro props, along with boarding and softening to protect plaster work.
To allow access for a mini digger to track through the property and down into the garden, we constructed a ramp, and the floor boards on the building's ground floor were protected using 18mm ply.
In the rear garden, we excavated foundations for retaining walls and removed soil in specific areas, allowing differing levels in the garden as per the design.
Trenches for ducting were dug for water supply relocation, along with various other cables for lighting and electrical points in different locations within the garden. Channels were dug for slot drainage to be installed to allow for rainwater run off from the paved and step areas.
Any client design changes were discussed and the necessary alterations carried out quickly. Additional stone was ordered and cutting lists tweaked, to keep the project on schedule.
Project summary
Our team transformed the front and rear gardens of a home in Argyll Road, Kensington, London W8. We designed and installed new stone paving, steps and stonework, creating an attractive, family-friendly space.
More stone steps & paving