Waterproofed stone steps, London houses
Pictured: Waterproofed stone steps crafted and installed by our team in London
Stone Steps and Paving transformed the appearance and functionality of the stone steps in front of two homes in Church Road, Richmond, London, TW10. By rebuilding the stairs in sandstone, and fully waterproofing the steps, we also created valuable new space underneath the entrances.
We were called in after two neighbours had agreed to enhance the main entrance staircases to their properties. Their steps had a tired appearance, and water ingress had become a problem to one of properties too. Water was coming up from the floor level in the room beneath the staircase and well as leaking in from the treads above.
Waterproofed stone steps: Before and after photo
Pictured: Before and after photo of the waterproofed steps and new paving we created and installed
About our work on this project
We crafted the steps at our workshop from Woodkirk Yorkstone – a popular type of British sandstone. Then, when we arrived on site, we installed scaffolding with a roof to allow our work to continue in any weather.
The biggest challenge we faced on this project was to prevent water rising from the ground. After digging in front of the lowest step, it became apparent that the structural brick which supported the staircase was saturated.
To fix this, we dug a trench under the brickwork, and supported it. Once the brick was exposed and could dry, it was waterproofed before a further waterproof concrete barrier wall was poured in front of the brickwork.
We then removed the staircase's stone, preparing the structure for replacements. We stopped water leaking through the steps from above, by installing a full waterproofing substructure underneath.
The double staircase's waterproof substructure was covered with new platform paving followed by matching treads and risers. Parapet and party walls were rebuilt, rendered and redecorated. Coping stones were fitted last of all.
Both homeowners told us that they are very happy with the outcome. They are pleased by the beautiful, classic entrances to their homes, and appreciate the new spaces underneath the steps that are now available to use.
Photos from this steps and paving project
Pictured: The space underneath the double staircase, Richmond, London
Pictured: The waterproofing substructure we built underneath the new stone steps
Pictured: A side view of the waterproofing layers we constructed underneath the steps
Pictured: The waterproofed space we created beneath the steps
Pictured: Walls being rebuilt – work in progress by our team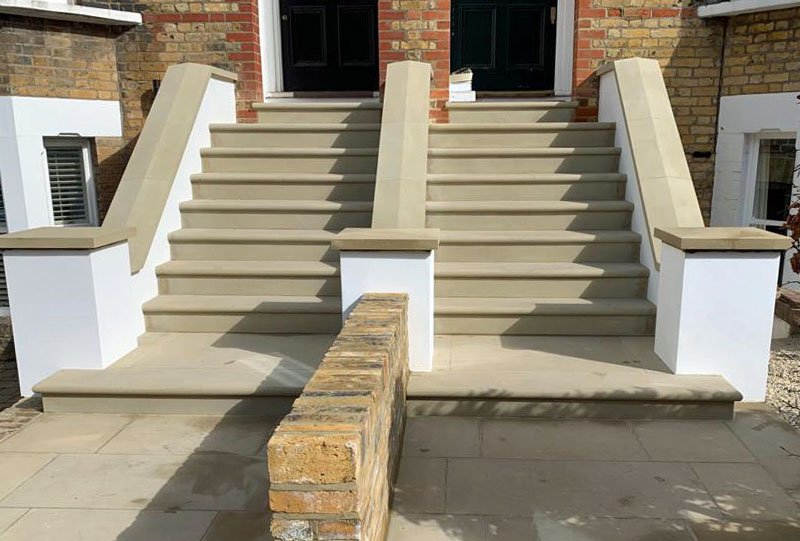 Pictured: The new steps, before the handrails were fitted by our team
Pictured: Another view of the completed stone steps that we created and installed. Church Road, Richmond, London
Project summary
We transformed the stone step entrances to two neighbouring homes in Church Road, Richmond, London, TW10 postcode. By waterproofing the staircases, we created valuable new spaces under the entrances for our clients.
More stone steps & paving