Natural stone paving services for London
At Stone Steps and Paving we undertake many and varied jobs to the front and rear of properties, transforming unusable gardens into inviting, attractive and pleasant environments. Our natural stone pavers are part of a team that excels to the best of their ability.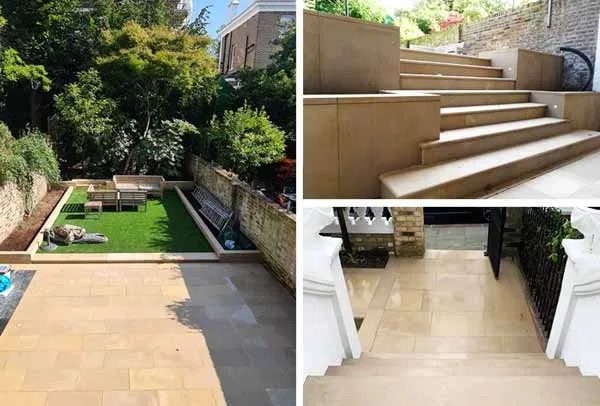 Pictured: Stone paving installed by our pavers in Kensington, London
Stone paving design and installation
Quality natural stone paving is very aesthetically pleasing and above all durable way of paving your front path or business premises. The beauty of natural sand stone and lime stone pavers is unrivalled by any man made alternative. The variation in colour and contrast, the wonderful inclusions of naturally occurring fossils and deposits make natural stone a choice with no rivals. We have been providing a paving service to London homes for many years. We undertake large commercial jobs and are also very in tune with the individuality and variation that smaller residential projects require.
Here at Stone Steps and paving we understand the importance of fulfilling the image that you have of your finished garden or entrance way. One's garden is very personal so it is very important that what you have envisaged is realised with the detail that you have so carefully thought through is achieved. There will never be pressure to accept a design or suggestion that is not entirely right for you. We offer a full service from consultation through to design and installation, you will of course be an integral part of this process at every stage.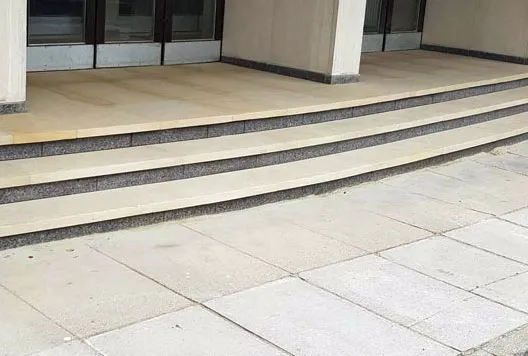 Pictured: New stone paving and steps for Greenford Hall in Ealing, London. Created and installed by our stonemasons
Stone paving for residential houses and commercial projects
We will always offer samples from our wide range of paving products to show the styles and types of natural stone paving to help you best find what's right for you. There are many different compositions of stone and styles of London stone paving. We will ensure that our natural stone pavers will help you find the style that works for you.
We are also very comfortable working on larger commercial projects and have many years' experience within this field holding all relevant insurances and health and safety credentials. All of our operatives have full CSCS cards and our site managers are trained to SMSTS level. Full, specific RAMS will be provided for each job and if there is any variation required they will be changed to accommodate this.
If you are looking for a London stone paving company that prides itself on being the best, please contact us today to discuss your requirements.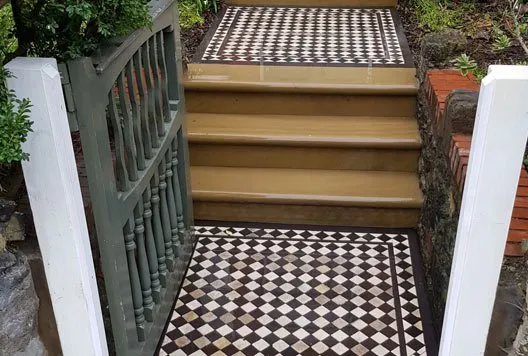 Pictured: Victorian mosaic paving laid by our pavers and stonemasons