Stone steps London: Services
At Stone Steps and Paving we manufacture, supply, repair, waterproof, build and install steps and paving from all traditional British limestones and sandstones.
Yorkstone, Portland stone, bullnose steps and stone slab steps are often requested by our London clients.
Our work is of the highest level of finish and craftsmanship. Our goal is to enhance and add value to your home or business premises.
Pictured: Portland stone steps on Bolsover Street, London, NW1. Created and installed by the Stone Steps and Paving team
Stone steps design and installation
We are one of the leading natural stone steps companies in London. We employ stonemasons and bricklayers with a long and varied project history. From cathedral masonry to heritage brickwork, our years of experience ensure that the work to your stone steps and paving is of the highest quality.
If you are looking for natural stone steps in London, we pride ourselves on being the best.
We understand that building projects can seem daunting, but we can help you with every stage, from choosing the appropriate stone to full design and installation of your entrance way.
Every property is different and has individual and bespoke requirements. For example…
It may be that the steps (the treads and risers) that we are replacing are the only access into and out of the house. We often replace steps on properties that have only one entrance – there is always a way for us to ensure you have full access at all times.
If the substructure is failing and needs rebuilding, our teams can rebuild and reinforce any brick, stone and foundation issues there may be.
It could be that you are experiencing damp and leakage. We can install substructures to our steps that are impervious to all damp, ensuring that you have a dry, water tight area beneath your steps that can also be used as an additional storage area or it can become a useful, internal, addition for your home.
We pride ourselves in fulfilling your wants and needs and with providing that special finishing touch.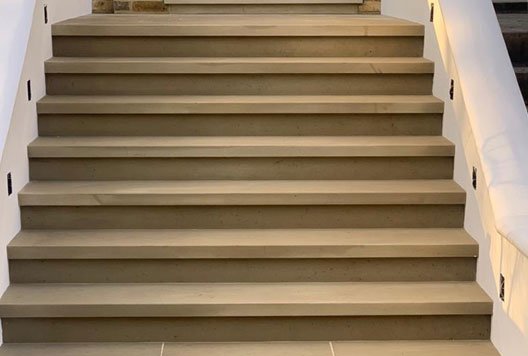 Pictured: Yorkstone steps we hand-crafted and fitted to a home in Primrose Hill, London, NW3
Yorkstone steps. About & example
Yorkstone (or York stone) is a hard-wearing, durable type of sandstone. It's typically quarried in Yorkshire and is known to have been used for building, steps and paving since medieval times.
Yorkstone is the most popular choice with our clients across London. It's a traditional stone for London. Its light brownish-yellow background "buff" colour is very attractive and enhances properties from every era; including Georgian, Victorian, Edwardian and contemporary. Yorkstone can also be selected for its streaks of colour. It can display red, pink, blue and silver grey hues.
Pictured, are Yorkstone steps we created and installed for a Victorian / Edwardian home on Rudall Crescent, Hampstead, London, NW3. The homeowner chose York stone to return the property to its original look and style. Our work included: selecting and ordering the stone from the quarry, producing designs for approval by the client, stone cutting, hand carving and installation.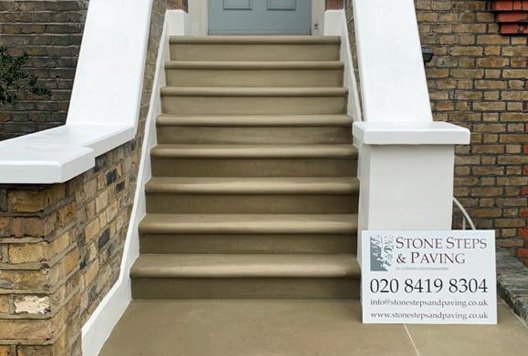 Pictured: Yorkstone steps for a Victorian / Edwardian home on Rudall Crescent, Hampstead, London, NW3. Created and installed by the Stone Steps and Paving team
Portland stone steps. About & example
Portland stone is a high quality British limestone, known across the world for its use on major public buildings. It's been quarried on the Isle of Portland in Dorset since Roman times. It's prized for its whiter colour – which sets it apart from the blue and greys of other limestones.
Portland stone has long been associated with London. Christopher Wren "cemented" its connection with the city when he chose it to rebuild notable London buildings after the Great Fire of 1666; including St Paul's Cathedral.
At Stone Steps and Paving, our London clients often request Portland limestone for high-status buildings. It's more expensive than Yorkstone, and can be the stone of choice in conservation areas. Portland stone steps can be seen on properties in Kensington, Eaton Square, Victoria, Earl's Court etc.
Pictured, are Portland stone entrance steps we created and installed to a Georgian building in Eccleston Square, Pimlico, London. SW1.
Pictured: A work-in-progress photo of Portland stone steps we created and installed for a Georgian building in Eccleston Square, Pimlico, London. SW1
Bullnose steps example
Bullnose steps have a smooth, rounded edge, and are a popular choice with our London clients. We tend to recommend bullnose edging for steps as the shape can prevent the overhang being chipped by delivery trollies or buggies.
Example: For a client in St. Mary's Gardens, Kennington, Lambeth, London, SE11, we replaced their unattractive concrete front door steps with hand-worked Yorkstone, bullnose steps.
50mm-thick York stone treads were chosen with a bullnose leading edge and full bullnose returns. A new plinth was also chosen with a pencil edge finish along with railing refurbishment including handrails. The stone was worked by hand in our workshop. All bullnose details were created by templating the bullnose (curve) onto the stone slab and then slowly spinning the stone into shape. This was done using a variable speed grinder with changeable grade sanding pads and finished with a fine sanding by hand. The sharper edge returns on the rear of the treads were worked with traditional mallet and chisel.
Pictured: Hand worked Yorkstone bullnose steps at our workshop awaiting delivery to St Mary's Gardens, Lambeth, London, where we installed them
Step waterproofing services
The Stone Steps and Paving team have been waterproofing damaged, leaking steps and paving across London and the South East for many years.
We offer two main waterproofing methods; our proprietary membrane layer waterproofing system, and asphalting.
Pictured: Waterproofed steps in Richmond by the Stone Steps and Paving team
Client testimonials include…
Our client Hannah from Kilburn, writes:
"Will and his team were great to work with. Will is a very good communicator, kept me informed at all times and was available to discuss questions. He is very knowledgeable and also helped us find the best stone colour to match our brickwork."
Our client Matt from Primrose Hill, London, writes:
"We chose Will and his [Stone Steps and Paving] team over others because they responded quickly to my initial enquiry, came around the house the next day and gave me a list of other properties nearby where I could see examples of their work.
"Overall I could not recommend the team highly enough."
Pictured: New stone steps for Hannah in Kilburn, London
Natural stone steps for houses, gardens and business buildings
Natural stone steps and paving enhance any entrance way, and the investment in your property can only add value to your home or business premises.
There are many types of stone and many styles of steps. We are dedicated to helping you find the right stone and style for you.
From solid stone slab steps to fine moulded designs, from replacing concrete doorsteps with stone, to rebuilding entire staircases, we can recommend a period style that will suit your home's era, or accommodate any design you may have in mind.
We are here to help you every step of the way.
Pictured: Internal stone staircase by our stonemasons at Stone Steps and Paving