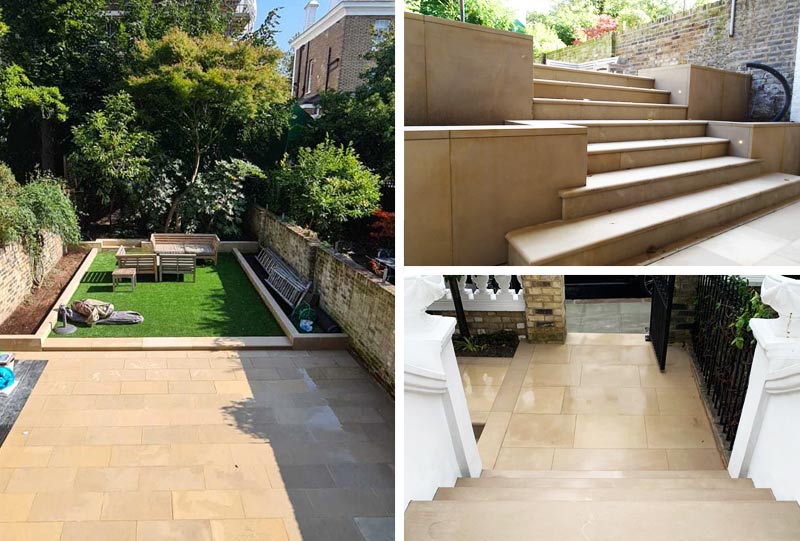 Pottering as well as relaxing in a garden area are pastimes enjoyed by millions of homeowners.
Your garden – Your design preference!
Part of the joy of gardens is that we all have our own ideas on how they should look and whether they are established as low, medium or high maintenance features.
The level you decide on is down to personal taste, choice, desire and time available for upkeep, but one thing is for sure, steps and pathways to complement your garden landscape are features that should certainly be invested in.
The connective glue that pulls your garden together:
You should view your garden steps and pathways as the glue that brings your landscaping together. As well as adding to the overall appearance of your garden and being standout features themselves, when properly laid they offer a safe, secure route giving ease of access to all areas.
Unless you are an avid DIY enthusiast you would be wise to discuss the installation of garden steps and pathways with a qualified stonemason. These professionals completely understand the importance of well-laid steps and pathways and can help those seeking sensible solutions tremendously.
Garden steps:
So many homeowners disregard the need for correctly placing and installing garden steps. To add to the beauty of your garden and to allow you to traverse your garden area with ease they need to be correctly designed and safe to use. It is also strongly recommended that you light stepped areas for additional night time safety.
One invaluable part of any garden step installation is getting the chosen step design proportion of treads to risers correct. This is a major safety aspect.
Landscape steps and/or garden stairs can be built with a variety of materials. This includes, but is certainly not limited to:
Crushed rock
Cinder block
Concrete
Brick
The difference between a cinder block and a concrete block can be found here
Garden walkways:
Please do not go to the trouble of installing perfectly safe garden steps and then placing lower concern on your garden walkways. You should consider these paths in the same way you do your house access via hallways and landings.
Your front garden pathway can be seen as an extension of your front entrance and hallway. Your walkways to any terraces or patios as an easy way of access to your side or rear garden space.
Again, correct installation of walkways is vital. Durable material should be used and installed to ensure water does not collect in any of the areas. To give your walkways a special effect you can consider planting trees either side which open on to the front, rear and sides of your house, and once again remember to light these pathways for the nighttime safety of your household members and guests.
A whole host of options – make the most of them:
There are a whole host of options for steps and pathways to complement your garden landscape.
You may want an area with stepping stones, a traditional style pathway running under an arch covered in brightly coloured, sweetly smelling flowers, or a stepped walkway leading to a sunken pond.
The options are many and by discussing your vision and needs with a qualified stonemason you will achieve exactly what you are looking for.
Pictured: Stone garden steps and paving that we designed and installed in Kensington, London